Welcome to the Rogue Legend: Tame the Wild WikiEdit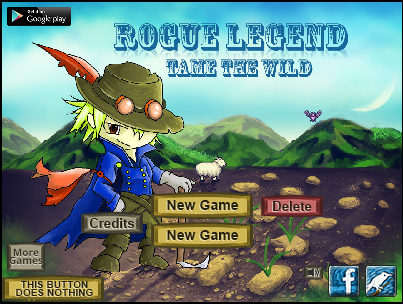 Welcome to the Wiki for Rogue Legend: Tame the Wild, a flash game by HelpIMadeAGame. The game is currently available on Kongregate, Google Play, Armor Games, and the developer's official website. This wiki should cover both PC and mobile versions of the game.
At present, the wiki is still in the early stages of development. We need your help to fill in missing information and correct mistakes. Please bear in mind that the game often receives multiple updates a week and the patch notes do not always detail every single change, so some of the information we provide may be outdated.
The Rogue Legend 2 Kickstarter campaign was successful! For those who still wish to back the endeavor, The developer has continued the campaign on his own site here and is accepting further donations via PayPal.
On a Side Note
Edit
Our Wiki is really starting to come together! Our Community may be small, but each of you is really putting in time and effort, and it is appreciated.
The Wiki adoption process continues, please visit The Forums for more info, your input and support are needed for the adoption to succeed.
Getting To Know The Game
Edit
Page Directory
Edit
All About You
Edit
Main Character
Status Bars
Achievements

Locations
Edit
The Farm
The Town
The Wilderness

Animals
Consumables
Crops
Materials
Tools

Deeper Information
Edit
Bugs
Guides and Tutorials
Research Projects
Updates

Latest activity
Edit